Announcement
User registrations are currently disabled due to high spam traffic.
Moderator
From: Tallinn
Registered: 25/08/06
Posts: 401
Loco Roco
Loco Roco(2006)
Developer: SCE
Publisher: SCE




For Sony, Loco Roco was the main project for summer 2006, and since people weren't interested in it, Sony released the first demo for PSP. From that day, all the world has gone Loco Roco! Everyone were astonished by the simple ang addicting gameplay, millions were waiting for the release.

Gameplay:
Gameplay mechanics are pretty simple : there is a funny blob, placed in a funny world and and there are berries, that should be collected, to make LocoRoco grow. There are enemies, who eat/kill/steal lottle Loco Rocos and there are friends, who help you on your way or bging you coins or Loco-Home parts (how is it called in English?).

The more LocoRoco you bring to the end of the level, the more coins you collect, the more MuiMuis you find, the faster you pass the level, the more coins you will be given, and the more points, the more bonuses will be unloced in the menu(for eg. - new music).

Loco roco are not the same, there are six types, that would be unlocked through the game. The only difference bteween them is colour, and you can select any one of them.

Sound:
locoRoco sings, talks with other Locos and MuiMuis, every part of the enviroment sounds differently, you will never be tired by the same music

Control:
What joypad? from what age are you? you need only 3 buttons to control - L and R to rotate the world, and O for breaching into tiny LocoRocos and urning back into a big one
The gme is simple ang genious. Go and buy it!

Gameplay: 9/10
Graphic: 10/10
Controll: 9/10
Originality: 10/10
Sound: 10/10

Screenshots: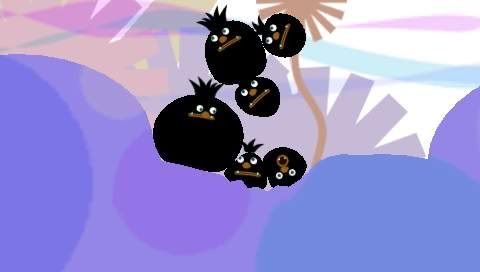 Last edited by soulofdarkness (15/10/06 11:14am)
---
I bite!