Announcement
User registrations are currently disabled due to high spam traffic.
Sprite Ripping/One Piece
I watched the show a couple years ago on RTL II, and i was kinda addicted to it. Recently I found a ПИФ rom - "One piece". Tried it out on my PSP with gbsp, and.. well, i was kinda dissapointed at first - linear gameplay, bad storytelling, and names - the german version names were totally different, and i think they sounded better: Luffy - Ruffy, Zolo - Zoro, Usopp - Lysopp and so on, but then I got used to it and passed the full game.
Since i started as a sprite animator, i thought is would be able to rip some sprites out of it or not. So i started: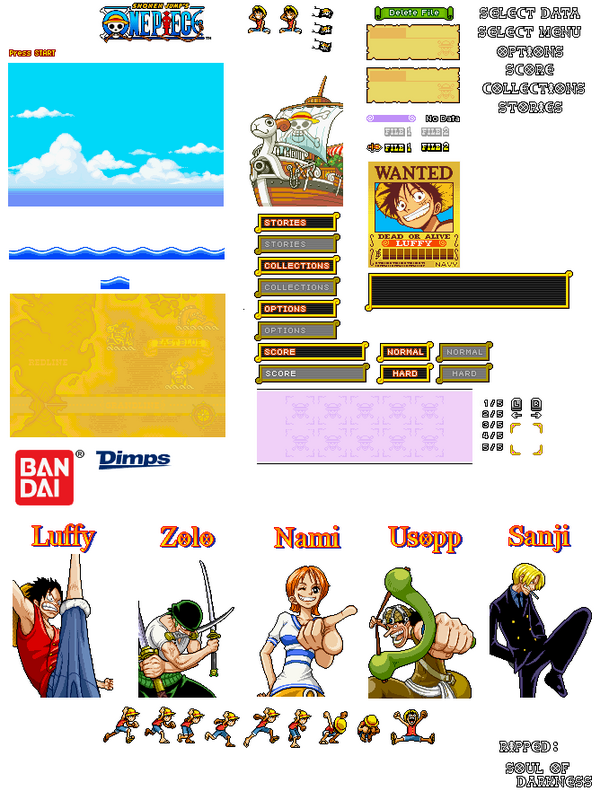 I ripped allmost all of the beggining sprites (the running Luffy sprites were a pain)
I don't know if i should continiuse - this one took me around hours. post feetback!
---
I bite!
Re: Sprite Ripping/One Piece
It has been resized a little, so if you want to see how it realy looks, save it to your PC first.
---
I bite!
Re: Sprite Ripping/One Piece
The story is bout a guy - Luffy - who ate a magical fruit when he was a little boy that made his body rubber-like, but he forgot how to swim. Now he's gathering a crew ot go to the 'grand line' - i don;t remeber for sure where it is, and want's to be the king of all pirates.I would tell you bout the other crew members, but that's not very interesting.
here's a link to GBA's rom - One piece. It's good to play it when you don't have much time to actualy play. battles are exighting, but you'll get ored after 10 - 15 minutes - enough time to pass a level.
Btw, if you need roms, visit http://www.emu-land.net/index.php?services=find_roms select the type of console you need to fing roms for, and then whrite the name and press the "Poisk" button. After that, click the name of the rom you need and the download will start!

Ripped some sprites of the main character. it's not full, i didnt unlock the dashkick, gum-gum ballon and gum-gum spear.

---
I bite!