Announcement
User registrations are currently disabled due to high spam traffic.
[Review] Medievil Resurrection
Medievil: Resurrection (2005)
Developer: Sony Computer Entertainment Europe (SCEE), Cambridge Studio
Publisher: SCEE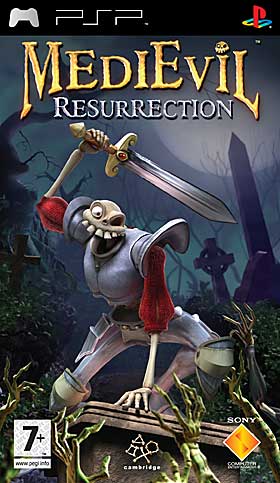 Seems like it's the first review here... let's start from the games you already own?

Medievil Resurrection is a remake of the first Medievil game, witch came out in 1998 on PSone. The storyline is pretty simple: You play as Sir Daniel Fortesque, a cowardly knight of the kingdom of Gallowmere who was killed by an arrow to the eye in a battle with an evil necromancer named Zarok. Now Zarok is back. The wizard once again wants to rule the world, so he casts a powerful spell to block out the sun and raise the dead in order to cultivate an army of zombies and ghouls. This magic brings Daniel back to life as well. Now it's his duty to stop the evil magician.





The game tries to ba a RPG, but it's 100% an action adventure with ... well, broken combat system, and since combat is the most valuable part of the game, that's pretty lame.

You visit different types of locations, from graveyard to a pirate town, from a farm to dragon's lair, meed very charismatic characters, find various weapons and so on.

Overall, the game worth playing if you like adventure games, It's not the game for Hack and Slash RPG fans.
Last edited by JaXeRiR (30/09/07 7:54am)
---
I bite!
Re: [Review] Medievil Resurrection
W00t a review
nice.

Maybe you should read it over... It has some weird errors =\
Re: [Review] Medievil Resurrection
---
I bite!
Re: [Review] Medievil Resurrection
The kind of weird mistakes we all sometimes make... And afterwards you can't believe you made them
I get that a lot =\

I'll start on a review for Wipeout Pure soon I think
Re: [Review] Medievil Resurrection
another side of the site i'm going to develop is the game reviews - i'll write code to allow anyone with forum moderator privaledges write reviews on the main site (i'm thinking i'd probably make you guys moderators)...
Might expand the same concept to other areas of the site too - four people updating a site is a whole lot better than one person doing it

What do you think?
---
PSP Flash Gaming creator
Re: [Review] Medievil Resurrection
I think that's not a bad idea, but i'm not shure if i an write rewiews without spelling errors
---
I bite!
Re: [Review] Medievil Resurrection
It's spelt 'sure'

Don't worry about it - if i can understand your posts well enough to correct the spelling mistakes, then i'm sure that the majority of readers will cope

Besides, i'd much rather have plenty of good content with the odd dodgey spelling than no content, and you write good reviews...
---
PSP Flash Gaming creator
Re: [Review] Medievil Resurrection
Maybe all reviews should have the same structure and rating system
Re: [Review] Medievil Resurrection
yeah, they will when i write it - probably the tried and tested method that most gaming mags / review sites use (and soulofdarkness has used a couple of times) with the scores out of ten. Not amazingly original, but everyone is used to it, and if it ain't broke, don't fix it.
If anyone has any ideas for how that section should work, now is the time to say (before i start work on it)
---
PSP Flash Gaming creator
Re: [Review] Medievil Resurrection
Yap I just read soulofdarkness' other reviews. I think the rating system is good enough
Last edited by Jeffy (04/10/06 9:22pm)